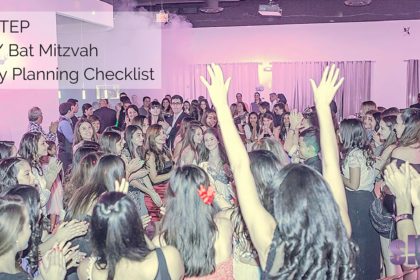 A Jewish child's bar mitzvah is the happiest event for the family, and it involves lots of fun activities that ushers a child into adulthood. This celebration might be a bit difficult to plan, but we have highlighted below a Bar Mitzvah party planning checklist for families who intend to celebrate one.
Set the Bar or Bat Mitzvah date
The synagogue should be the first to be contacted when a child turns 9 or 10 to pick the date for the Bar Mitzvah program. Some synagogues require that a child completes some years in their Jewish day school or religious schools. Small synagogues have the flexibility to allow you pick your date while the larger ones, tend to assign a date because of the volume of celebrations yearly. Of course, if you are planning an independent service, away from the synagogue system, your date is your choice.
Create a preliminary budget
Every party planning requires a budget of how much you intend to spend so that you don't spend too much on unnecessary items.
Pick the architecture of the Bat/ Bar Mitzvah
Would you prefer the ceremony on a Saturday on Friday? Would you want to restrict guests to just friends and family? Would you prefer the service in the night or during the day? All these are considerations to be made at the third stage of the planning.
Decide if you will be Hiring an Event Planner
It might seem easy to plan a great bar or bat mitzvah, but it can be a bit overpowering especially if you are not used party planning. It will be advisable to get an event planner who will ensure that every detail is created according to your wishes.
Create a preliminary guest list
There are a bunch of questions to answer at this stage. It might be easy to quickly note down a few friends and family members, but it might be challenging to pick guests who are not in this close circle. Would you want to invite co-workers? Or neighbors?
Book your party location(s)
If you find a perfect location that you love, and it is available on the date you have picked, it is time to go to the next step. This next step involves negotiating the price and asking for a written contract. Times like these are where experienced party planners come in handy, although there is no reason you cannot work with the venue to get the best deal.
Book your caterer and music
These two items are the most important as they have the power to make or break the celebration, so the famous ones are hired early. It is safer to hire them in advance to prevent any disappointment on the special day
Pick a snapchat filter
There are special Snapchat Geofilters with beautiful overlays for Snaps which can only be accessed in some locations. Other snapchat filters may be chosen for such special occasions such your Bar Mitzvah, and it is quite easy to pick a filter. Just upload any suitable picture to Snapchat and select the outline of where you would like it to show and when the Snapchat team approves the submission, it is uploaded immediately.
Confirm When the Tutoring Sessions Begin
Some synagogues begins tutoring between 12 to nine months before the date of the bar bat mitzvah.
Get ready for the party.
If you have followed the steps mentioned above, it is time to enjoy your bar mitzvah ceremony.