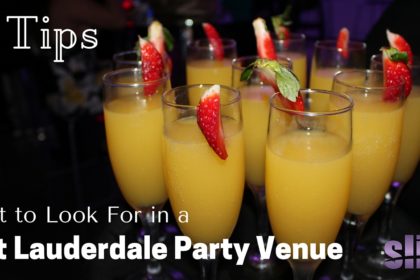 Those who are in search of a party venue in Fort Lauderdale have a number of factors that they will need to consider before they are able to make a final decision. You only get one chance to throw the perfect shindig and unless you look for the proper characteristics, finding the right Fort Lauderdale party venue can be challenging. If you'd like to make the next party you throw the best one, be sure to follow these five helpful tips.
Location, Location, Location
Sometimes, people allow themselves to get caught up in the hoopla of finding the very best venue possible, instead of locating the venue that is the most convenient. After all, don't you want your guests to be able to find the place with relative ease? Consider the areas in which your guests are traveling from before you make a choice. In a perfect world, you'll want to choose a venue that makes traveling to and from the event simple for your guests.
Parking Adjacent
With so many other pertinent details to iron out when it comes to selecting a party venue in Fort Lauderdale, the concept of choosing a venue with a convenient parking setup often falls completely by the waste side. But this commonly neglected detail can make or break your party before it has even been thrown. Be sure to decide if you want guests to self park or if you'd like to utilize valet parking. And don't pick a venue that requires a long trudge for your party-goers.
Pricing Structure
Most parties come with a predetermined budget attached to them and if money is indeed an object for your get together, then be sure to select a party venue in Fort Lauderdale that allows you to remain within the budget that has already been assigned. Knowing just how far you are able to stretch this budget when it comes to choosing your venue determines how much capital you'll have left to spend on the rest of the party.
Ability To Suit Your Party's Needs
Every party is different and you'll want to select a venue that can handle the needs of your shindig. Most parties require food, will you be having yours catered or do you need a kitchen? Are there additional tables and chairs available, so that extra seating can be provided if necessary? You may also want to find out if there is equipment on hand to show videos or play music and you could need an event staff to handle clean up.
The Venue's Appearance
Selecting a venue that looks inviting is arguably one of the most important aspects of selecting a Fort Lauderdale party venue. While the selection you make will depend on whether the party is a formal gathering or an informal get together, knowing what type of appearance you want your party to convey to guests is pivotal.
If you're planning an event soon and are looking for a Party/ Event Planner to take the stress off you can contact us.  We'll be happy to help and make your event one to remember.