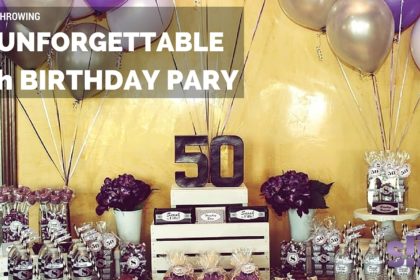 The big 5-0 is a very special occasion, one that deserves to be commemorated with a great party. When you are trying to show your appreciation for a close friend or loved one who has managed to reach this incredible milestone, you'll want to throw a party that they will not soon forget.
So how do you go about this task? There are a number of helpful tips and pointers, but for now, let's take a moment to focus on the three keys that are most important. Read on in order to learn more.
Renting a Venue
Let's face it: parties are a whole lot of fun, but there is not much fun to be had during the process of cleaning up and assessing the damages that have taken place. Having an unforgettable 50th birthday party is great, but keeping your home in one piece is even better. This is why you will want to rent a top notch venue to mark the occasion.
By renting an event venue, you are ensuring that your home remains off limits and centralizing the eventual mess in one location. Plus, you can choose a venue that is uniquely equipped to handle all of your party needs. A private residence is typically not large enough to comfortably fit all of your prospective party guests.
Hire a Caterer
Do you have what it takes to cook enough food to feed dozens of hungry revelers? Are you able to keep track of all the food preferences and allergy allocations that you're going to have to make? In all likelihood, the answer to both of these questions is a resounding no.
Hiring a caterer takes a great deal of the party planning stress off your shoulders and allows you to focus your attentions elsewhere. Knowing that one of the most important party aspects is fully taken care of ahead of time provides the person who is responsible for throwing the shindig with some valuable peace of mind.
Use a Party Planner
There is no shame in not knowing how to properly plan a great party. That's why there are professionals on hand who are ready, willing and able to help you with the process. Using a party planner offers you the chance to spell out all of your specific needs and wants ahead of time and procure the necessary supplies.
A party planner has the experience and track record that party throwers need access to and they are also able to answer your most crucial questions in a timely and efficient manner. Whether it's queries about the musical selection, choice of venue or caterer related issues, or some other unforeseen occurrence, party planners are here to help.
If you're planning an event soon and are looking for a Party/ Event Planner to take the stress off you can contact us.  We'll be happy to help and make your event one to remember.