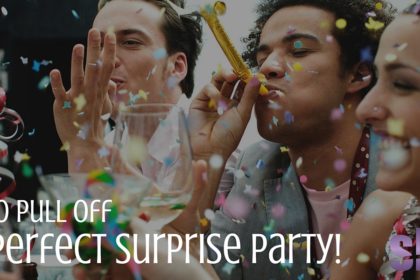 Are you planning a special party for someone in your life? Surprise parties are a fun and exciting gift, but to pull it off you have to be prepared. You must plan everything in advance and be selective on who you include in the plans.
Here are a few tips on how to pull off the perfect surprise party:
Before you begin, consider the personality of the guest of honor. Is he/she a person who enjoys the unexpected? Are they a person who feels at ease in any situation or would they be humiliated at being overdressed or underdressed for an event? This makes a difference.Your plans should include inviting them to go somewhere similar on the night of the party. If you are having a formal or catered dinner at a party venue, make them think you are going to a nice restaurant so they will be dressed appropriately. If your surprise party is going to be dancing and finger foods and everyone will be in jeans; trick them into believing you are going somewhere like the movies or a ball game. Be considerate of how they will feel when they arrive.
Choose your venueThere are places that are expert party planners. Many people make the mistake of planning a surprise party at their home. It is very hard to pull this off. Parking is usually an issue that gives it away. Also inventing a reasonable explanation as to why you must go back to the house is usually awkward.If you arrange your party at a party venue, it is easy to say that a friend wants to join you but asked you to pick them up at "X". Another idea is to say you ordered a special package and you need to stop and pick it up on the way.Party venues are a better choice for many reasons.- They prepare the food- They have the music, lighting and dance floor- There are no "strange" things happening to give it away- Saves money and time for open bars (rather than stocking alcohol and mixers on your own)

– They clean up
Send out E-vites to guests, so that the party is not spoiled by people trying to respond on social media. The smaller the group; the easier it is to manage. Make sure each guest is contacted individually and they know it is a surprise to keep to private. Nothing can spoil a party faster than an uninvited guest getting word of it.
Reserve your venue in advance.
Prepare the menu and activities with the event planner.
During the week before the party, verify the menu, times and entrances of the venue. Ask guest to arrive 45 minutes before you. Make sure you have booked the venue for the extra time and have some snacks and drinks there to keep guest from getting bored.
On the night of the party, delegate responsibility to someone to ensure the entrance is prepared, the guests are prepared and everything is ready at a set time.
Arrange your "unexpected" phone call asking you to make a stop somewhere along the way.
SURPRISE! Enter your venue and pat yourself on the back for a job well done.
If you need more information on how to plan the perfect surprise party, contact Slice. We are the party experts in Weston.