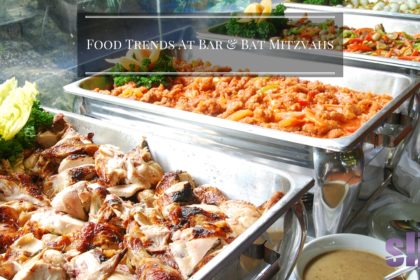 Personalization is one of the major forces in bat & bar mitzvahs. The best bar and bat mitzvah menus are those that portray the unique sense of fun and adventure of the child. From appetizers to desserts, dinners to buffets, you can select from these fun and festive ideas to celebrate their coming of age. As you set out to create a "mazel moment" get inspired by these food trends at Bar/Bat Mitzvah that will arouse your guests with great taste.
Food with Personality
As one of the most important aspects of today's bar mitzvahs, personalization is a force to get along with. There has been a drastic change in the world of food and drink as ever-evolving catering trends are sprung out from Mitzvahs past. When planning for your next event, do not hesitate to check out some of the most popular catering trends.
These days, the child's culture, style, taste, and creativity are now been showcased in menus. The event theme has taken a different look as it is now been supported with food and presentation. In fact, it is no longer just about food. It is about how your child will take what he or she enjoys and share with all the guests. You can consider highlighting your child's palette with a gourmet or a deconstructed spin on their favorite meal. Another great way to put a personal stamp on the event is by applying culinary themes.
Fun and Interactive Stations
One thing you must know is that kids will always want to be kids and as such, it is needful to engage them with fun as they are the focus of the event. This can be achieved with some festive ideas like building your own food stations where guests can select their favorite mix-ins to design their own plates, DIY drink bars, snipping their own herbs or choosing their toppings.
Food Trucks
Another great crowd-pleaser is the ever-popular food truck where almost any type of drink or food can be served ranging from smoothies to hot dogs and waffles. A simple way of bringing the child's favorite food establishment to the center of the celebration is by personalization. You can also choose to provide a unique theme with branded food stands and carts such as a personalized 7-Eleven stand or Dunkin' Donuts Bar.
Mini-Menus
More opportunity to present the child of honor's tastes can be derived from several mini-tasting options. These are lasting small bites trends that provide guests with the opportunity to taste virtually everything in bits with little or no guilt.
Mini drinks like mini shakes and sliders for kids and tacos and mini-margaritas for adults paired with bite-size versions of classic favorites are also taking center stage. Another big hit with guests are soda and mocktail bars. Get inspiration from the child's favorite colors and flavors when planning to feature signature drinks.