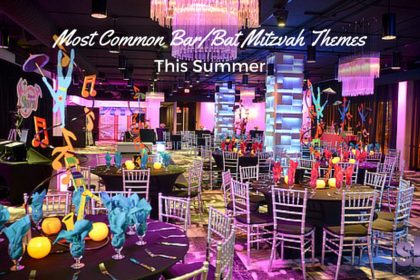 Your child's bar/bat mitzvah is an extraordinary day that most parents think about on the day their child is born. Even though it doesn't happen for another 13 years, it requires a whole lot of planning.
Being organized is the key to an unforgettable bar/bat mitzvah celebration, and sometime planning starts a couple of years before the actual date. Nowadays, bar and bat mitzvahs have become more ostentatious and stylish than ever before, as teens are opting for more contemporary arrangements, below are the most common bar/bat mitzvah themes this summer:
Sports Theme
It doesn't matter if your best sport is football, baseball or hockey, a sports theme is a superb way to show your love for sporting events. Put up balloons in the form of footballs or baseballs to hang at the entrance of your hall and invite guests to come dressed up in their favorite team jerseys.
Hollywood Theme
Show everyone your appreciation for Hollywood! Adorn your hall like an awards show along with a stage and red carpet entrance. Encourage your guests to dress up like their favorite celebrities.
Israeli Theme
For many, old-fashioned is the way to go. Use an Israeli color scheme for the party favors and accessories. Name the table for cities in Israel and Israeli flags should be used as focal points.
Candy and Sweets Theme
Sweeten up your event by using ornaments with a candy theme. For unique floral centerpieces made from candy, fill vases with colorful candies, and flower shaped lollypops.
Beach Theme
Regardless if you live near the coast or in the snow, a beach themed party will bring out the beach-bum in everyone. Adorn with orange, green and maybe perhaps some tiki torches.
Fairy Tale / Princess Theme
Throwing a fairytale theme party will reveal the princess in every little girl. The party invites should look like small fairy tale books with pictures of princesses, castles and dragons
70's Bell Theme
Everyone will certainly be twisting and shouting at your 70's bell bottoms party. Adorn your hall with pastel pink and blue crepe paper, balloons and vinyl records. Aim for that 70's look… think John Travolta!
Game Theme
Vitalize your party with a game theme. Arrange multiple games all around the room and invite guests to play and participate. Award points each time someone wins and provide a jackpot prize.
There are many great themes for a Bar/Bat Mitzvah.  If you need help planning your party contact us today.