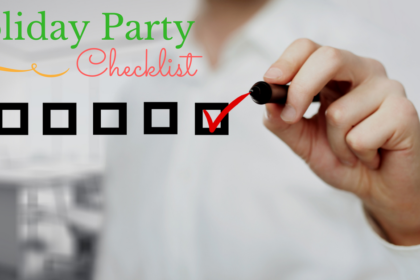 If you are planning a holiday party or gathering this year, the following checklist will take you through the important basics to cover. There are a lot of details involved when you plan a holiday party, and a checklist is one surefire way to keep you on track.
These pointers can help you stay organized:
Invitations: Do away with the paper invitations and go for evites or create an event on Facebook. If you want to go for the formal approach, paper invitations will do, but bear in mind that they are time-consuming and of course a little outdated. Weigh your options and decide on the best way to go about it. Facebook event invitations and evites are free, quick and your guests can RSVP right away.
Food and Drink: whether you'll be serving hor d'eouvres or having dinner, plan accordingly. Will there be any food allergies to consider? Having such information beforehand will ensure that all guests are catered for and no one will leave on an empty stomach. You may also want to serve both non-alcoholic and alcoholic beverages to give guests plenty of options.
The party vibe: your 2016 holiday party checklist should also take into account the party vibe. This includes décor, place setting, the works and music. Are you expecting a mixed crowd to attend the party or everyone will be celebrating Christmas? Avoid offending your guests by being considerate to different religious affiliations. If you are not familiar with religious affiliations, ask those concerned to bring along their favorite music, traditional dishes etc. to make them feel at ease and more comfortable. In addition, doing this will give all the attendants the opportunity to immerse themselves in different cultures and cuisines.
Party activities. Right from having small fashion shows to building gingerbread houses, there are plenty of ways to get your guests to mix and mingle, get to know each other and keep everyone entertained. There's no doubt on the level of fun and excitement you'll create by that, and who knows, you might just start a new holiday trend!
Party favors: One thumb rule to keep in mind when giving party favors to guests is to for something more personal. It could be getting guests funny reminders of jokes or a custom calendar made with photos of your friends together. You could even make a donation to some local charity with homemade products from your kitchen. The point here is to keep a lasting impression that will be remembered for many a time.
Always remember that the whole point of planning for a holiday party is to have fun. Happy planning and know that it's all about being with your friends, family and loved ones.